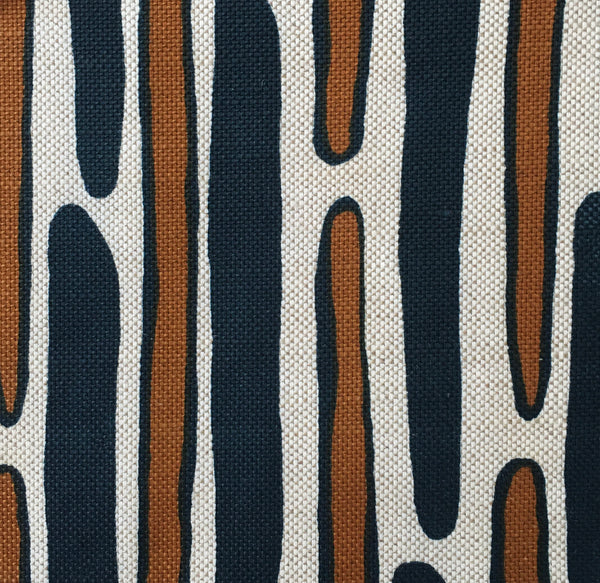 MORRIS TEAL/NUTMEG SWATCH
Fabric by the yard is sold exclusively to the TRADE.
Designer Net Pricing: For fabric by the yard pricing and/or complimentary samples, please login or register for a New TRADE Account, including company name and business tax ID number. 
Name: Morris
Process: Hand Printed
Color: Teal/Nutmeg on Natural
Content: 45% cotton / 55% linen 
Width: 54"
Vertical Repeat: 31"
Horizontal Repeat: 5.5"
Railroad: yes
In stock: call for stock
Lead time if printed: 4-6 Weeks
Minimum Order: 3 Yards
MODERN PATTERNS /
 


TRADITIONAL CRAFTSMANSHIP /

 


MADE IN THE USA

Our patterns start as hand sketches using markers and are then painted in the Pawtucket, Rhode Island studio. The sketches are put into repeat for printing using traditional hand printing methods in an historic Rhode Island textile mill that has been in operation since 1937. Dye is squeezed through a 54" wide screen that two people move together down the 50 yard long printing table. Colors and textures vary slightly and are characteristic of hand printed textiles.